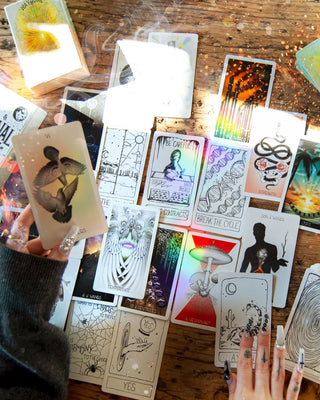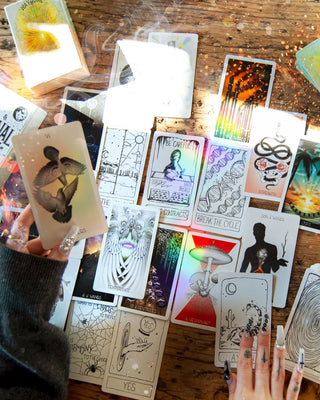 A weekly ritual
Please join us Sunday afternoons for an hour of intentional reflection and cosmic mapmaking in a live, collective Tarot reading using our in-house decks Wayhome Tarot and Visions in the Liminal Space.
A beloved ritual since 2019, I began The Sunday Reading in need of connection and was blessed to find that people showed up and found meaning in this offering. Your presence gave me the greatest gift: the ability to heal alongside my community. 
The Sunday Reading has accompanied me through the end of my Saturn Return, a global quarantine, being a resident of three states and a visitor of several more. I've fallen in love with this coven of supportive souls who come together on Sundays to talk about anything and everything in the subscriber group chat and gather around the proverbial fire for my favorite hour of the week. 
For over four years, thousands of people have watched the Sunday Reading and benefited from the channeled wisdom for the week ahead. I hope to see you there, and that engaging in this practice brings some sparkle to your Sunday and some magic into your everyday. 
xoxo
Bakara Wintner